2008 Virginia Law Enforcement Challenge Awards Presented
August 10, 2009 | VACP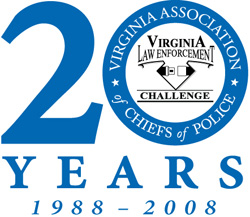 The Virginia Association of Chiefs of Police (VACP) on August 10, 2009 presented the 2008 Virginia Law Enforcement Challenge awards for the best traffic safety programs in the state. The awards luncheon was held during the VACP's 84th Annual Training Conference at the Marriott City Center in Newport News, VA.
Celebrating its twentieth year in Virginia, the Law Enforcement Challenge program promotes professionalism in traffic safety enforcement and encourages agencies to share best practices and programs with each other. The awards are based on entries prepared by the participating agencies that highlight their traffic safety activities in the past calendar year. The Virginia Challenge is held in cooperation with the National Law Enforcement Challenge Awards, presented by the
International Association of Chiefs of Police (IACP)
. This year, fifty-one Virginia agencies entered the state and national competitions and forty-two will receive state awards. The full list of Virginia Challenge winners is available at
http://www.smartsafeandsober.org/programs/LEC/2008
. The 2008 National Law Enforcement Challenge Awards also have been announced and Virginia agencies have once again been very successful! Sixteen agencies won national awards for their traffic safety efforts in 2008 and they will be recognized in front of their peers from across the country at the IACP Annual Conference in Denver, Colorado in October. (
List of 2008 National Challenge winners
) In addition to the first, second and third place awards in each category, special awards for outstanding enforcement and education efforts in the areas of occupant protection, impaired driving, speed awareness, child passenger safety, underage alcohol awareness and many more were presented at the luncheon. Additionally, an award was presented for the best first-time entry, or "Rookie of the Year", to
Washington County Sheriff's Office
and the Commonwealth Award was presented to
Harrisonburg Police Department
for the most outstanding traffic safety program in Virginia in 2008 regardless of agency size or type. New for the 2008 Challenge, the "Officer of the Year" award was presented to
Sgt. Chris Rinker of the New Market Police Department
. Sgt. Rinker's efforts behind the success of the Route 7|11 Taskforce were the reason he was selected for the inaugural award. The new Officer of the Year Award is presented to an officer who has exhibited extraordinary initiative and innovation to make traffic safety education and enforcement a priority in his agency, his community, and beyond. The Virginia Law Enforcement Challenge Awards program is supported by a grant from the Virginia Highway Safety Office. Additional information about the Law Enforcement Challenge program can be found online at
http://www.smartsafeandsober.org/programs/LEC
.
FULL NEWS RELEASE (PDF)
AWARDS PHOTOS