Blog
Marion makes its choice for next police chief
Quantico Police Chief John Clair will succeed retiring Chief Rex Anders as the next Marion Police Chief.
by Linda Burchette | Smyth County News & Messenger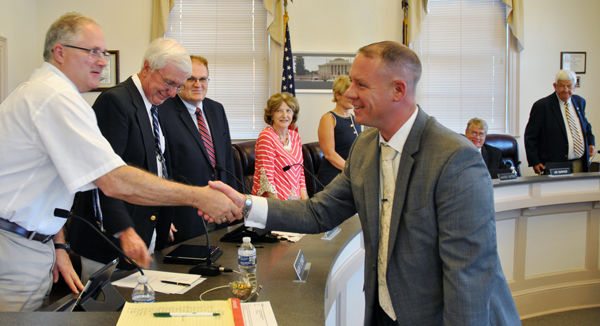 John P. Clair first visited Marion on a genealogical hunt. He'd traced his ancestry back to Smyth County. He and his wife visited the courthouse, hoping to find documents to confirm the research. Their trip wasn't in vain. Clair left with the 1845 marriage certificate for William Clear, a direct ancestor. With that lineage in mind, Clair said Monday, "In a sense, I'm coming home."
When Clair saw an employment ad for police chief in Marion, he was intrigued – interested enough to apply. Out of the more than 30 applications, his was the one that made it to the top.
The Marion Town Council gave a tentative nod to Clair Monday evening with Mayor David Helms introducing him as the council's choice for the town's next police chief.
While his appointment as chief won't be official until the month's end when Chief Rex Anders' retirement takes effect, Clair isn't wasting any time getting to know the community and the Marion Police Department.
By Monday evening, Clair had already met with Anders and other MPD leaders and plans to begin working with the department in a limited capacity next week.
Clair's wife, Melissa, and their four children joined Clair at the town council meeting for the announcement. Clair told the gathering that he hoped to earn the trust and support of Marion.
The current chief of the town of Quantico's police department said he and his family are "all in."
Making a 250-mile move, Clair said, "We're going to embed ourselves in the community."
Clair brings with him an extensive background in police work.
He began his law enforcement career in the U.S. Army, graduating from that military branch's police academy in 1999. As a military police office, he undertook traditional law enforcement work at Fort Sam Houston in Texas and then was transferred to Korea, where his work focused on black market investigations and drug suppression. He returned to Fort Myer, a U.S. Army post associated with Arlington National Cemetery, where his duties ranged from dog handler to presidential support missions. During Operation Enduring Freedom, he was sent to Guantanamo Bay.
Clair was honorably discharged in 2005.
He then worked as a private contractor providing protective services for the U.S. State Department and the U.S. Department of Justice.
Clair entered municipal law enforcement with the town of Dumfries' police department. He was working with the Prince William County Police Department when he applied for the Quantico chief's position.
At the time, the Quantico PD was reeling from controversy when its chief and two officers resigned following an audit that found that drugs, cash and handguns were missing from the department.
Clair took that post in 2013 and said he's really enjoyed his time there.
However, the native of a small town in Ohio is looking forward to transitioning to life in Southwest Virginia. As he and his wife work to sell their home and make the move, Clair anticipates that the police department transition will go smoothly. He offered only praise for the Marion PD and Anders.
Following his time with them Monday, Clair said, "The town of Marion has dedicated police officers, who are professionals." He went on to speak of how supportive they were of him and moving forward.
Clair also said, "It's clear to me that Chief Anders is a well-seasoned law enforcement veteran. I have big shoes to fill."
In addition to his law enforcement work, Clair is pursuing a master's of divinity degree with Greenville Presbyterian Theological Seminary in South Carolina. While his ministry is done as a volunteer and separate from his police work, Clair said, he naturally draws his moral ethics from his faith. He sees ministry as another avenue for helping people.
Source URL: https://www.swvatoday.com/news/smyth_county/article_2f776016-7407-11e8-ac1a-dbabedb880a2.html